(∩`-´)⊃━☆゚.*・。゚
Staff member
Administrator
FotMob_Pro.apk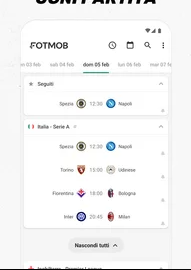 Over ten million downloads for Android's best football app.
Features:
* Live scores with alerts (we aspire to be the fastest on the market).
* Stats (formations, goals, cards and substitutions).
* Standings.
* Calendars
* News (news about leagues and teams).
* Top scorers
* Favorite teams
Coverage of:
All existing Leagues from the proffesionals/Diletantes around the World.