The Evad3rs iOS 6 To iOS 6.1 Untethered Jailbreak Will Be Called Evasi0n, Website Is Now Live
Well folks it's official!
The iOS 6 Untethered Jailbreak from the Evad3rs has a name — Evasi0n
. Pod2G sent out a tweet not long ago stating that the website was online and to check it regularly for updates. We learned earlier this week that the iOS 6 Untethered Jailbreak was fully functioning with the iOS 6.1 firmware update Apple pushed on Monday and thus the Evad3rs announced it wouldn't be long before we would see a public release of the Jailbreak. In fact, MuscelNerd tweeted that it could be as early as this Sunday. It is important to keep in mind however, this is just an estimation and it could be released later or even earlier depending on how private beta testing goes.

According to the official website the Evasi0n Jailbreaking tool will take 5 minutes of your time, requires a computer running Windows, Mac OS X or Linux and a compatible iPhone, iPod Touch or iPad. You can take a look at the requirements in a bullet form list below…
5 minutes of your time!
A computer, running Windows (XP minimum), Mac OS X (10.5 minimum) or Linux (x86 / x86_64)
An iPhone, iPad or iPod running iOS 6.0 through 6.1 (you may check in Settings / General / About => Version)
A USB cable to connect the device to the computer
Right now the Evad3rs are in the middle of finishing the GUI (graphical user interface) for the tool, once this is complete private beta testing will start and then it will be made public. The individuals working on the iOS 6 Untethered Jailbreak include MuscleNerd, Planetbeing, Pod2G and Pimskeks. Phoenixdev, Surenix, Hanéne Samara, the Chronic Dev-Team and the iPhone Dev-Team also contributed to the Jailbreak. Apparently even Kiki the cat was involved.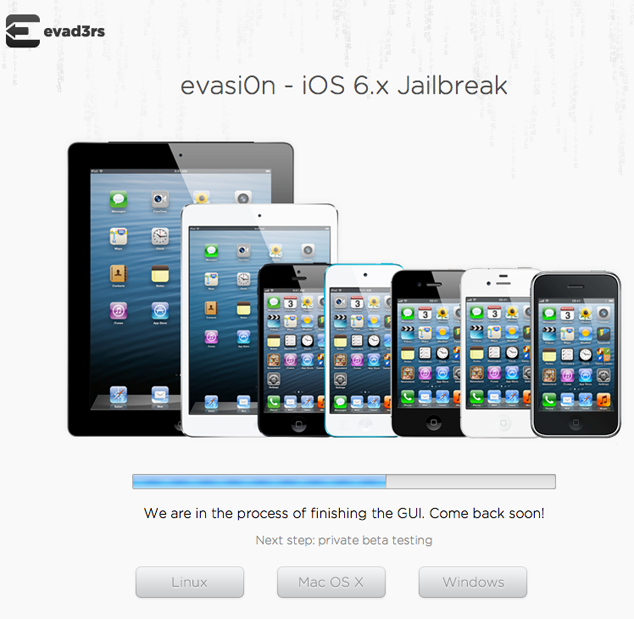 Evasi0n Untethered Jailbreak Compatibility
For all of you wondering about compatibility, the Evasi0n Untethered Jailbreak will apparently support iOS 6 through 6.1. Meaning it should support iOS 6.0, iOS 6.0.1, iOS 6.0.2 and iOS 6.1. As for the actual devices, as long as your device can officially run iOS 6 it will be supported, minus the 3rd generation Apple TV.
iPhone 3GS
iPhone 4
iPhone 4S
iPhone 5
iPod Touch 4th Generation
iPod Touch 5th Generation
iPad 2
iPad with Retina display 3rd and 4th Generation
iPad Mini
2nd Generation Apple TV
Now that we know the name of the iOS 6 Untethered Jailbreak — Evasi0n — and the current state of the project it won't be long before it gets into your hand. We will keep you updated when more information on Evasi0n is available. Sit tight.
evasi0n iOS 6.x Jailbreak - official website of the evad3rs
files soon, Pod2G announced for next Sunday :clapping::clapping: